Despite the progress in phone technology, making or receiving calls will always be the most valuable feature of any mobile device. If your phone displays the message SIM card is not detected. It means you don't use your phone for that essential purpose. There are problems and solutions for all brands and models of mobile phones, such as:
Samsung
iPhone
Nokia
Apple
Motorola
Blackberry
Alcatel
Sony
China Mobile Phones
HTC
Huawei
Oppo
Sony Ericsson and more others
Also Read: Mobile Phone Hanging Up Problems
Mobile Phone SIM Problems/Errors
When the SIM card is inserted, the message "Insert SIM" still appears.
After inserting the SIM Card, the Mobile Phone goes Offline.
Initially, SIM works, but then it stops.
There is an error message that says "Invalid SIM".
The SIM card does not work.
Phones do not detect SIM cards.
SIM Card does not detect on Android Phones
Sim card access error
How To Fix SIM Card Not Detected Issues
The SIM card cannot be detected, and the following methods can fix errors. Step by step, follow these instructions. This solution works with Android smartphones, Apple iPhones, and regular feature phone models.
Make sure your mobile phone is in flight mode by checking the settings.
Changing the Mode to Normal if the device is in "Flight Mode".
The SIM Card Tips and the SIM Connectors need to be clean.
You can replace the SIM card if the problem persists.
In case the error has not been fixed, change the SIM connector.
If the problem is not resolved, check the SIM Track. The Diagram of the Mobile Phone Model consult. Books and websites are available that show track diagrams.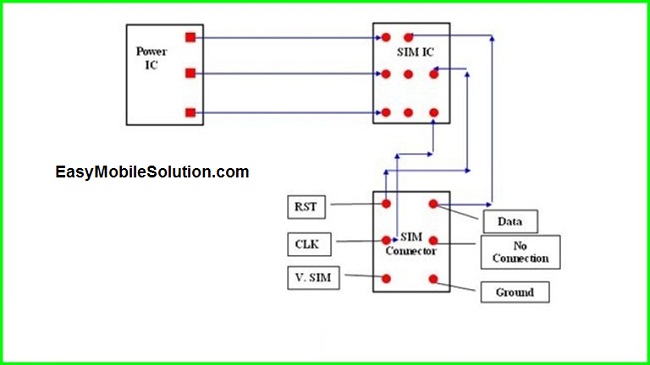 When the problem still happens, you must heat or replace the SIM chip.
Lastly, reball or heat the power IC.
Essential Tips To Fix Not Detecting SIM Cards
To determine whether an IMEI number is good or not, check it. Dial *#06# to check the IMEI number. For example, the IMEI number might be 35826********220. There is an issue with the IMEI number. Invalid SIM cards will generate error messages. So, the Invalid SIM Problem solve by flashing the IMEI number.
Make sure the battery has a BSI point. A BSI is a middle pin. The battery should be changed and checked. It is caused by the Display showing "Not Charging" and the SIM Card problem at the same time. It could be caused by a battery BSI problem or a BSI track issue on the PCB.
You can use the jumper method if there is no SIM IC available and change it. SIM ICs are only used for completing circuits.
The problem I described above happened to me in the past, and I changed the SIM card.