Disappearing messages on Whatsapp introduced in WhatsApp's latest update. After 7 days, WhatsApp messages disappear from your chat. Any new messages sent to any group chat or individual chat will expire after seven days when enabled. Discover how to turn off disappearing messages in Whatsapp as well.
Disappearing Messages is a feature that WhatsApp has recently introduced to its app for all Indian users. With this feature enabled, you can delete all messages you have sent after seven days. Both individuals and groups can use it. The administrator is the only one who can enable or disable this feature.
Guide How To Enable The Disappearing Messages On Whatsapp
In addition, to reply to messages, the chatbox also displays. Forwarded messages do not affect by this feature. A message disappearing feature also deletes media files after seven days if it enables. Your devices will still be able to store these media files if you've enabled the auto-download feature.
What Happens If I Turn Off Disappearing Messages On Whatsapp?
Chat For Individuals:
Click on the chatbox of the selected contact and open it
To disable disappearing messages, scroll down to the 'Disappearing messages' option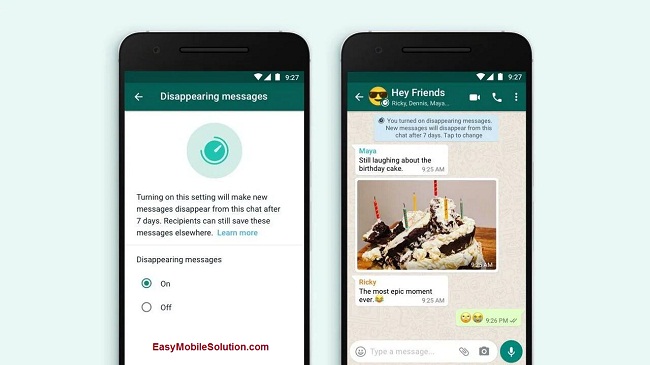 Tap Continue > Turn ON/OFF.
Moreover, as with individual groups. The feature also enables by tapping on the group name if you are the group administrator.
In Group Chats:
To select a group, long press it
The "3 dots" symbol can be found in the top right corner
Turn OFF or ON the option Disappearing Messages under Group Info -> Disappearing Messages
It's possible to enable or disable the Group Chat Feature for the whole group or a specific member.
Disappearing Messages FAQ
Which Whatsapp Messages Will Disappear When This Is Turned On?
Your messages can be in any format, such as Text, Photo, Video, Audio, or you can send a message to a group or a particular person. If you change this setting, your previous chat messages not affected. In a chat where disappearing messages turn off, a disappearing message forward.
How Is Whatsapp Disappearing Messages Disabled Or Enabled?
Individual chats turn off to prevent disappearing messages. Messages disappearing from a group conversation turned on or off by any member. To prevent disappearing messages moving turn ON or OFF by users other than admins.